Meet the Cadre: Dawn Cheek
"Meet the Cadre" is a simple interview format glimpse into each of the outstanding folks that make Apache Solutions what it is today. We wanted to give all of our students, social media followers, and website visitors an individualized introduction to each of our Coaches, Instructors, and Administrators. This week, we introduce Mrs. Dawn Cheek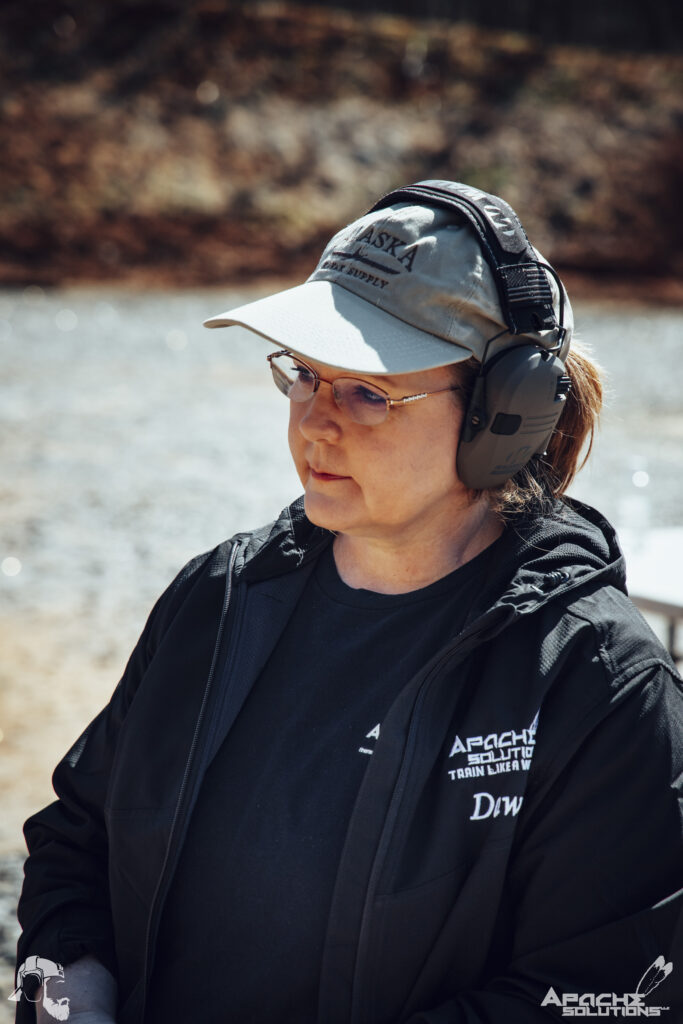 Dawn Cheek
What is your age group: 18-25, 25-35, 35-50, "Experienced"?
Experienced
What is your current role within Apache Solutions?
I am an NRA Certified Instructor who assists where needed; from coaching on the line, to Range Safety Officer duties.
Do you consider this a Full-time job, Part-time job, or hobby?
Hobby
Why have you taken on this role?
I find this role rewarding, as it allows me to interact with others who are seeking to gain greater knowledge and improve skill sets regarding the ownership and handling of firearms.
Why choose Apache Solutions?
Apache was recommended to me as a place to gain quality firearms instruction. After spending some time at the range, I realized the passion that Tim has for delivering high quality instruction as well as his passion for educating others.
What course have you participated in (as a student) that is your favorite/most memorable?
As a student I would have to say that my first introductions to formal firearms training left the greatest impact on me. In the early 90's, I was fortunate to attend Gunsite Academy and Lethal Force Institute. It did set quite the bar as to what quality firearms training looks like.
What course have you taught (or assisted with) at Apache Solutions is your favorite/most memorable?
My favorite course is the NRA Basic of Pistol course. I enjoy seeing people become more confident in their ability to safely handle a firearm.
Name one instructor or course (Not including Apache Solutions) that you think everyone should experience:
I would highly recommend any course taught be Tatiana Whitlock. I would also recommend for instructors or other serious students, attending the Rangemaster Tactical Conference (Tac-Con) currently held in Dallas, TX. This is a unique opportunity to meet and train with incredible instructors from across the country. As well as, network with others attendees. You should plan on attending at least twice. It truly is an amazing experience.
What are your Non-Firearm related hobbies?
I enjoy baking, quilting, reading, and traveling.
Do you have any Major Accomplishments or Certifications you would like to share?
NRA Basic of Pistol Instructor

NRA Range Safety Officer

NC DOJ Concealed Carry Instructor

Facilitator for the Yadkin Valley Chapter of A Girl & A Gun Women's Shooting League