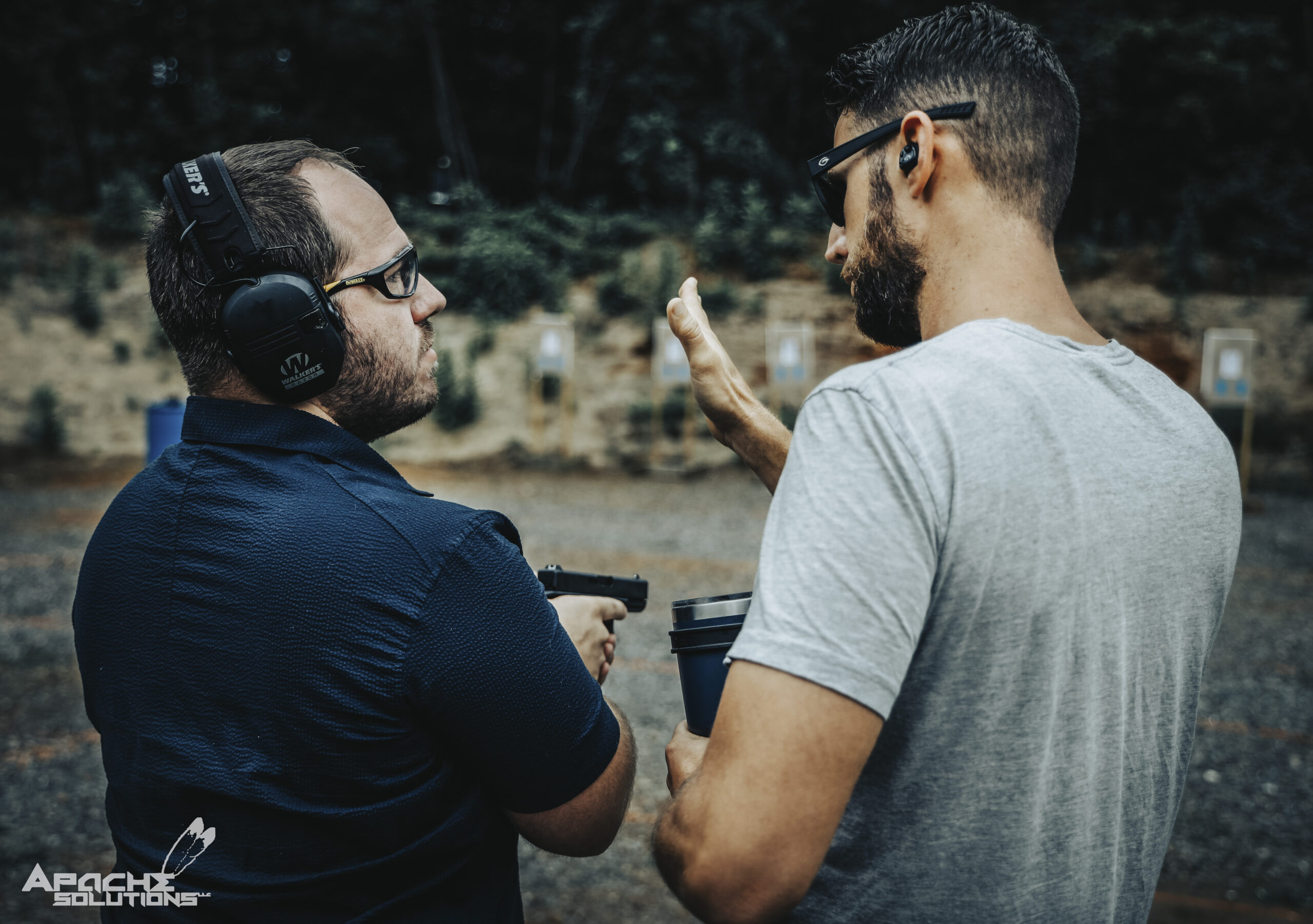 Private One on One handgun lessons by appointment on weekdays only. Need some work on your handgun training? Contact us and let our qualified and experienced instructors give you tips and tricks for making you a better shooter! Call us to schedule today!
***Call or message us to schedule your session!***
Students must be 18 years of age or accompanied by a legal guardian and lawfully able to purchase a firearm in the state of NC. Students may use their own firearms and gear or they may use our firearms and gear by request.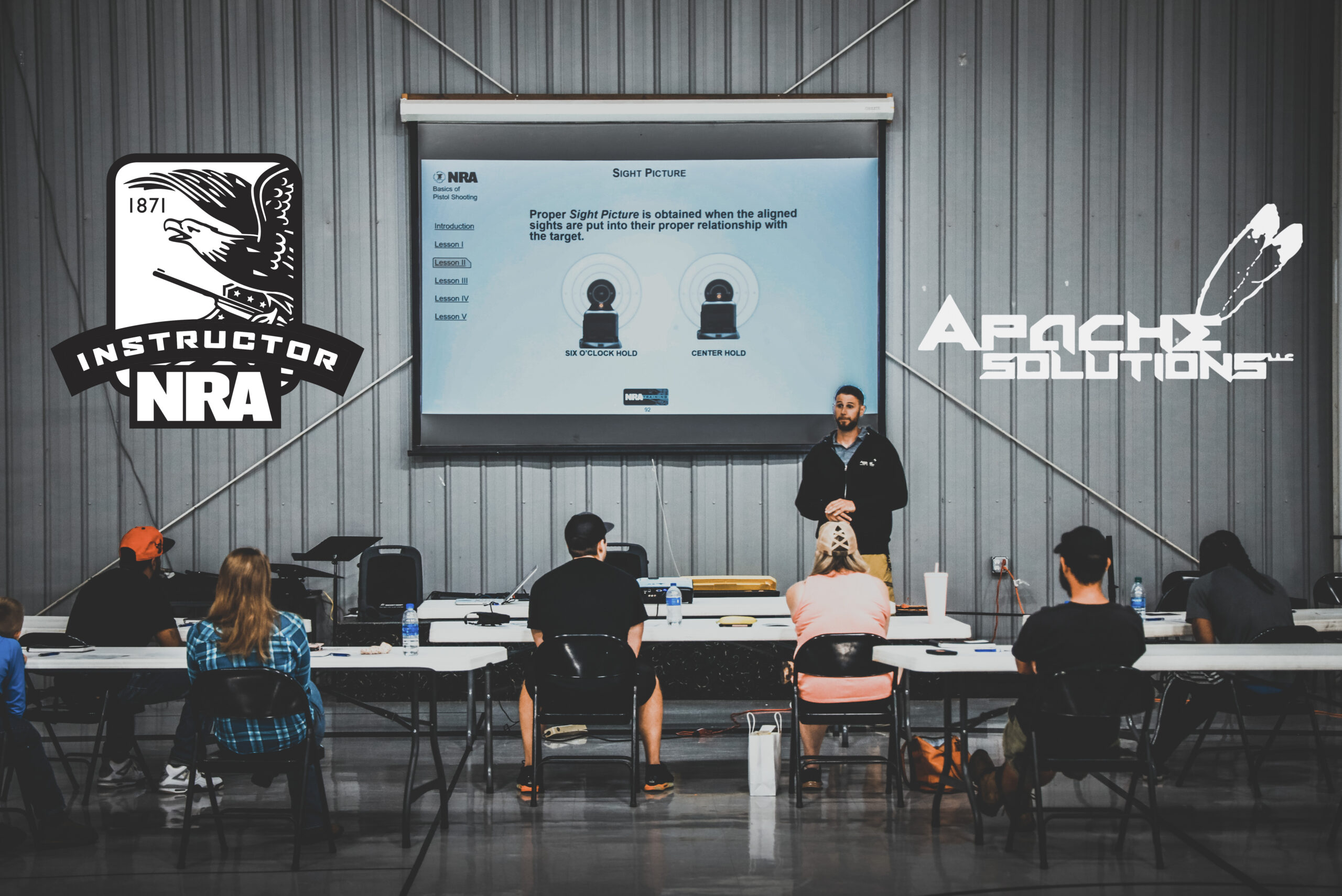 NRA BASIC PISTOL SHOOTING COURSE - (INSTRUCTOR LED ONLY)
The goal of the NRA Basics of Pistol Shooting-Instructor Led Training course is to teach students the basic knowledge, skills, and attitude necessary for owning and using a pistol safely. This 8-hour course will cover both the revolver and the semi-automatic action types in detail and it is the pre-requisite course for the NRA Pistol Instructor course. Students may provide their own handgun and ammunition. Handguns must be in good working condition and may be chambered in any caliber. There will be firearms available if you do not have one of your own at no extra cost (But, you must purchase our ammunition for our handguns). Contact the Instructor for more details and to make payment.
Course topics include gun safety rules, proper operation of revolvers and semi-automatic pistols, ammunition knowledge and selection, pistol selection and storage, shooting fundamentals, pistol inspection and maintenance, marksmanship, and shooting range safety. Additionally, students will complete live fire training and a nationally standardized shooting qualification while on the range with an NRA Certified Instructor. Students will receive the NRA Guide: Basics of Pistol Shooting handbook, take a Basics of Pistol Shooting Student Examination and receive a course completion certificate bearing the signature of the NRA Secretary and your NRA Certified Instructor.
NC CONCEALED CARRY HANDGUN COURSE
***Please call to reserve a seat, for any questions or for directions.*** 336-422-6859
Come out and earn your North Carolina Concealed Carry Handgun Certification with Apache Solutions!
This course teaches you the Laws and regulations pertaining to the use of Deadly Force and Concealed Carry in North Carolina.
Cost: $80 per student
Required: Must be 21 years of age and lawfully able to purchase a firearm in NC. Must bring a valid NC driver's license.
What to bring: Unloaded Handgun that you plan to carry. 50 rounds of ammunition for the handgun. Eye protection and Ear protection are all required to take this course. (Please let us know if you can not provide any or some of these items before the day of the class.)
Students may also bring their own lunch. A one-hour lunch break will be permitted at/or around noon. Please wear boots/shoes that you do not mind getting dirty/muddy. No low cut t-shirts or flip flops allowed.
Students will be required to pass a written exam and a shooting qualification. The shooting qualification consists of shooting a total of 30 rounds from 3, 5 and 7 yards (10 rounds at each distance) on a 7x10 vertical rectangle target.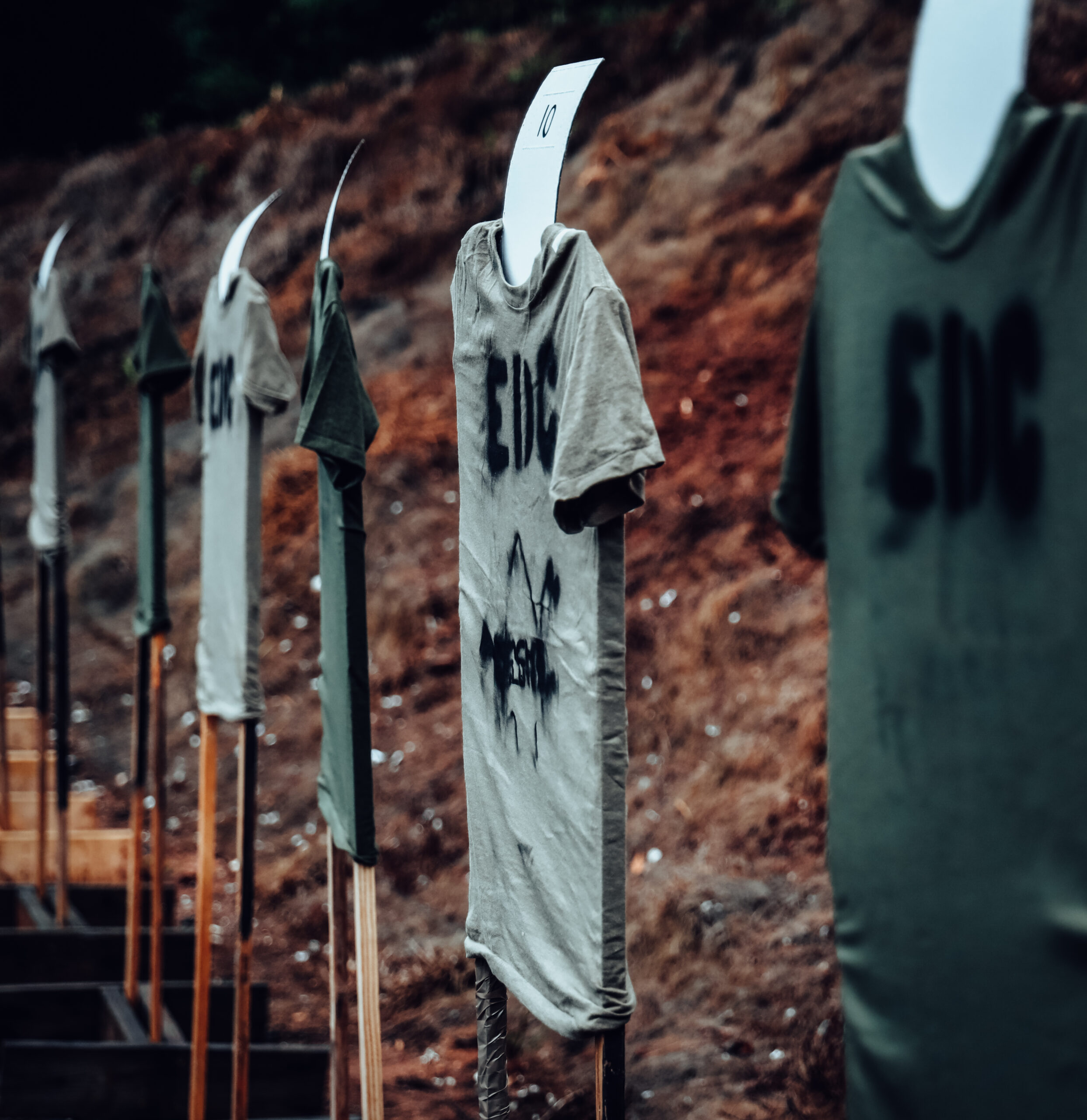 EDC COURSE: EVERY DAY CARRY
This course is designed to introduce the student to the real-world use of their Every Day Carry(EDC) Handgun. Testing and evaluating your everyday carry can help to tune skills, maximize proficiency and minimize the unnecessary. This course is the standard for which we train here at Apache Solutions LLC and is very much essential for those that wish to become a better shooter and an overall, more responsible armed citizen. *** NEW** This course now covers Medical considerations for your EDC!
The course will cover:
Medical considerations for the purpose of EDC
Essential Handgun Skills
Pistol Presentation
Drawing from the holster
Efficient Stoppage Clearing
Unconventional shooting positions
Required gear: Handgun, quality holster (Strong side or forward of the hip holsters only. Must be Kydex or Hard leather IWB or OWB. NO SERPA holsters.) 300 rounds of ammunition, Eye and ear protection (electronic hearing protection is a good idea), at least 3 spare magazines with a spare magazine pouch, writing gear.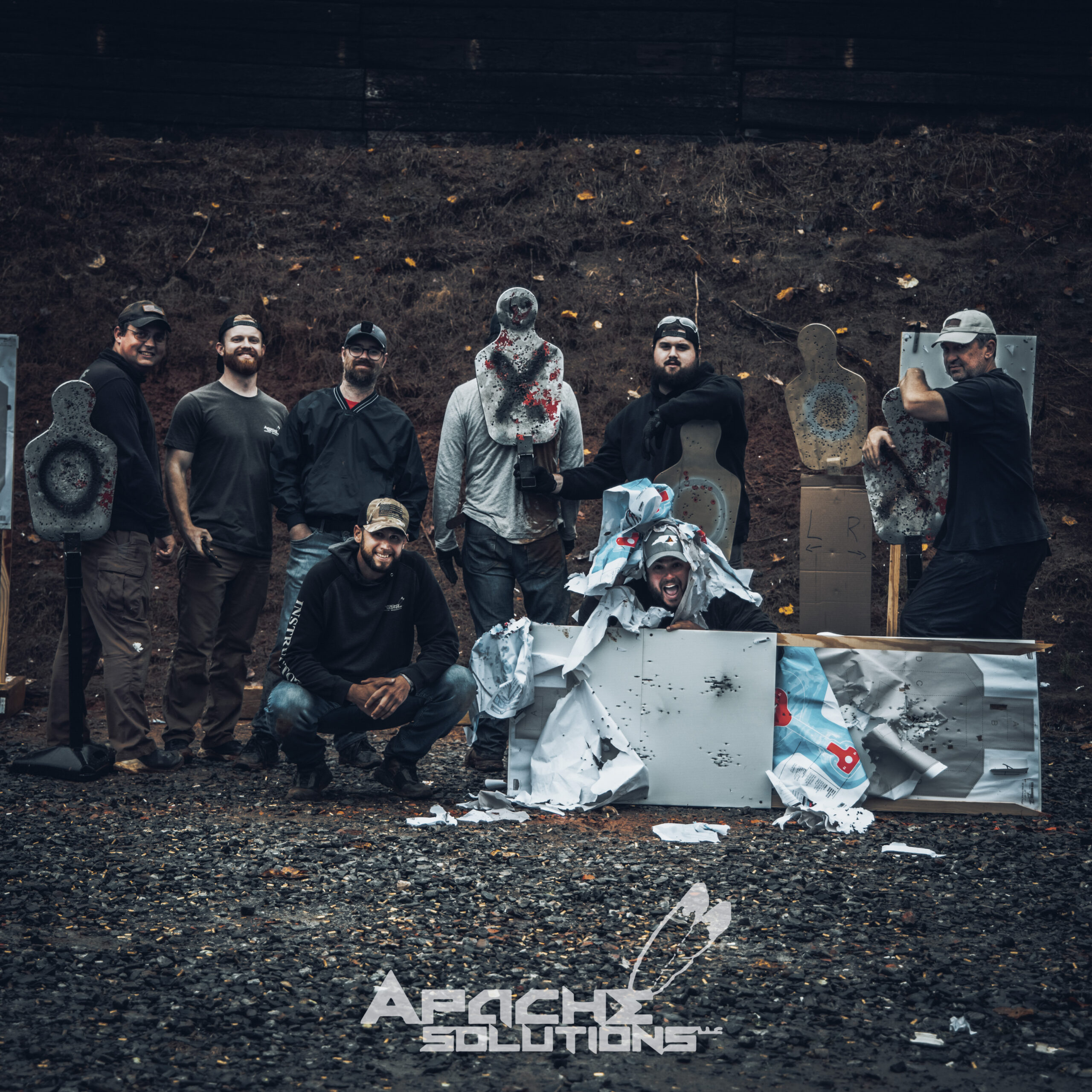 *A* EDC COURSE: ADVANCING EVERY DAY CARRY
AEDC (Advancing Every Day Carry): If you have taken our EDC (Every Day Carry) course, this is the next step. What an awesome course covering subjects such as critical movement, discretionary target selection, mass crowds, cover and concealment and more!
I believe the word "Advanced" has been given an inappropriate stigma over the years and is often misinterpreted. Bruce Lee explains that Advanced Skills are just the Basics mastered.
Advanced: Far on or ahead in development or progress.
Basic: The essential facts or subjects of a skill.
Many "Advanced" classes paint the image of something out of a John Wick movie with flashy, cool moves and what we like to call "enter-trainment." This is NOT what we are about. We want our students to be able to use these skills to save their own life! Not to look cool on Instagram.
In this class, we explain when and why a student should be "Advancing" their skillsets, or moving forward in the development of their EDC. Much like the EDC course, this is about considerations! Where the one-day- EDC course focuses very heavily on those technical skillsets and equipment, the AEDC course delves further into the overall mindset and skills needed in the complex and cognitive aspects of fighting for your life.
Required gear:
What to bring: 600 rounds min of ammunition for your gun or guns of choice. Holster(s), spare magazines (spare magazine holster optional but it will come in handy). If you have a speed loader, I would bring it for your thumb's sake. Eye protection and ear protection. If you would like to bring a lunch, you are welcome to eat on the range for the sake of more range time, otherwise, you will be given some break time to go and grab a bite from town. We will have bottled water on the range for you to take advantage of. If you would like to bring Gatorades or other drinks, that is totally fine. If you are the note-taking type, you are welcome to take notes. You are welcome to film almost every drill we perform on Saturday. We just ask that you give us a heads up. If you are still deciding on which gun to bring, bring them both. If you open carry at all, now would be the time to put it to the test as well. Trust me, there will be plenty enough repetitions and drills to go around for multiple guns. A camping chair would be a good idea. Dress for the appropriate weather conditions.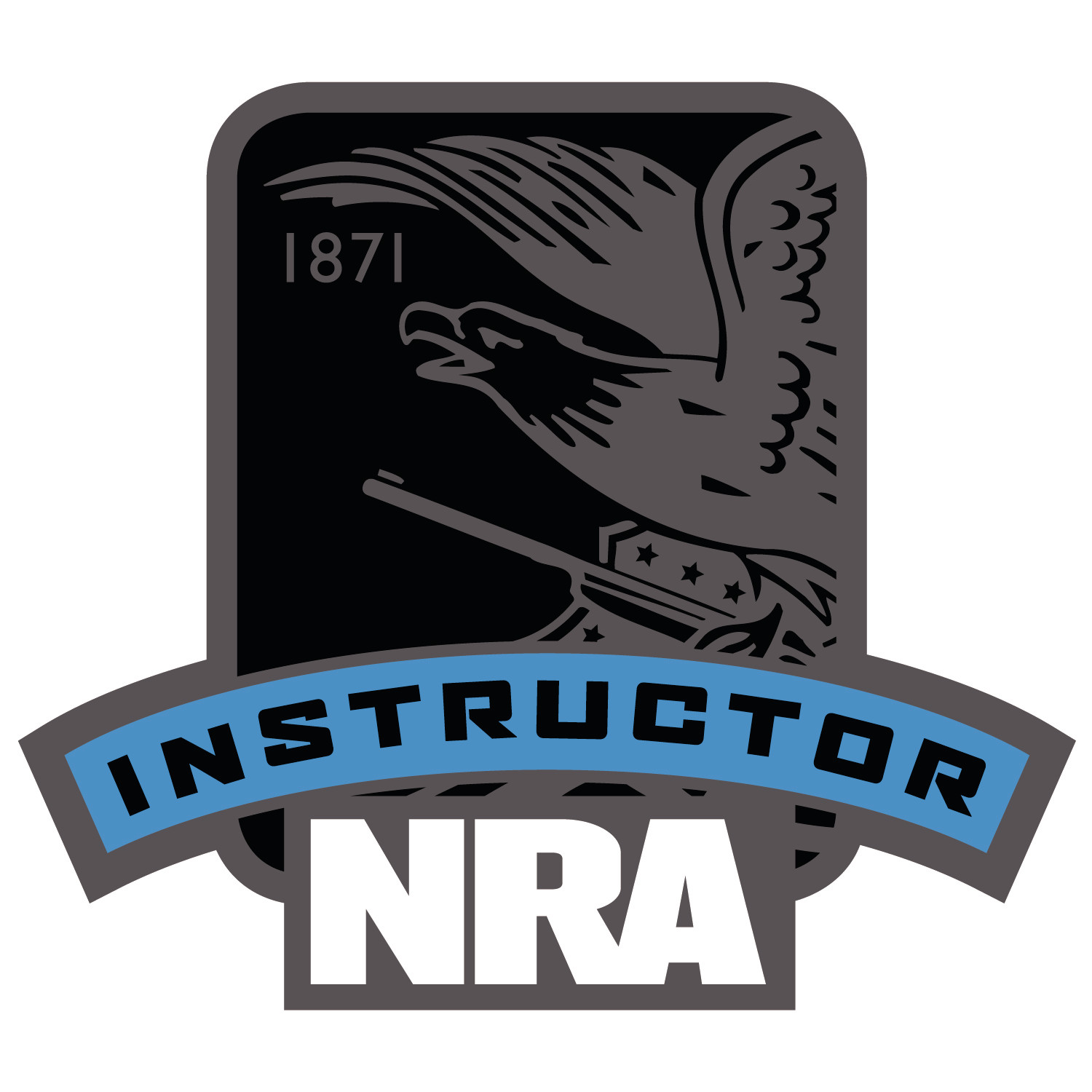 NRA Basic Pistol Instructor Course
A 16-hr course teaches the knowledge, skills and attitude essential to organizing, promoting and teaching NRA's Basic Pistol Shooting course
This course is led by certified NRA Training Counselor, Tim Kelly and assisted by several certified NRA Instructors.
This 16-hour course teaches the knowledge, skills and attitude essential to organizing, promoting and teaching NRA's Basic Pistol Shooting course.
Prerequisite: Possession of basic firearm safety and shooting skills is a perquisite for certification as an NRA instructor. Prior to the instructor training, candidates complete a pre-course questionnaire and demonstrate their firearm background in pre-course assessment exercises.
Description: Course is presented in two parts: basic instructor training, and discipline specific instructor training. Students demonstrate organizational and teaching skills via participation in practical exercises during the course, and complete an instructor certification examination. Students will receive the NRA Trainer's Guide, NRA Pistol Shooting Instructor Candidate Packet and NRA Basic Pistol Shooting course student packet.
NRA RANGE SAFETY OFFICER COURSE
Become an NRA certified Range Safety Officer. The course is $100 per student and requires that the student has a vast knowledge of firearm use and long-term experience in the use of firearms.
Class is expected to last no more than 4.5 hours. The student must call ahead of time to schedule an appointment to take the class.
- Opening -
Hours
Monday- Saturday
BY APPOINTMENT ONLY
- Company -
Address
Apache Solutions LLC
5239 US 601 HWY
Yadkinville, NC 27055
info@apachenc.com
Tel: 336-422-6859