- Apache Solutions LLC -


Train Like A Warrior
- POWER -
Classes
You won't find anything second rate at Apache Solutions. We are known for meeting the student at their current skill level and we push them to the next level. Our 1on1 training sessions are worth every penny, but our Classes are definitely the most popular programs we have.
- Skilled -
Instructors
We have some of the world's most interesting instructors here at Apache Solutions. These professionals strive to be the best the industry has to offer. Each Instructor is handpicked to teach here at Apache Solutions.
- Awesome -
Facilities
Our Facilities are ever-growing and constantly getting better. Our classroom and training facility will aid in your personal and professional training, while our pro-shop will up fit you with all your shooting and tactical needs.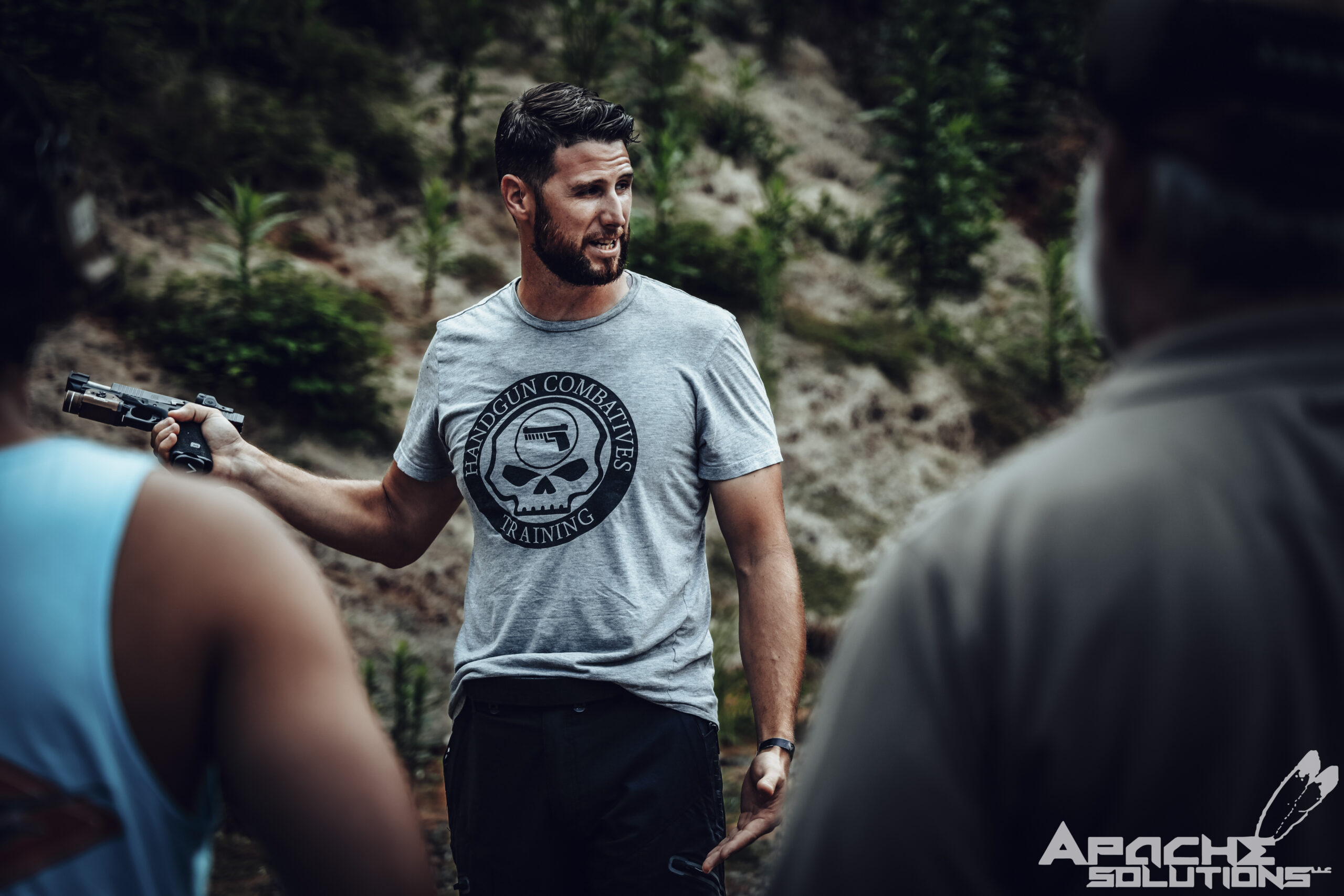 - Chief Instructor -
Tim Kelly
Tim joined the Marine Corps in 2005. He deployed with the 22nd Marine Expeditionary Unit in 2009 and again in 2010 as the emergency response unit for the earthquake in Haiti. In 2011, he deployed to Afghanistan as a Squad Leader where he was wounded in combat by a grenade explosion. Tim completed his tour of duty and led Marines in Southern Afghanistan despite his injuries. Upon returning home, Tim spent nearly one year of recovering with physical therapy and rehabilitation. He was medically retired from the Marine Corps in 2013 and began pursuing a degree in Mechanical Engineering. Tim completed his Associate's degree in 2016 and realized that he had a passion for instructing Firearms courses.
Tim treasures his memories and duty in the United States Marine Corps and, like most veterans, misses it every day. He has pursued a lifelong journey of learning and has an innate ability and desire to lead. Apache Solutions has provided Tim with the ability to lead and shape others as a civilian. He will share his knowledge and provide you with the fundamentals necessary to improve your marksmanship and address threats should they ever arise. Tim understands that a simple eight-hour course and an NC CCH permit allows you to legally conceal carry a handgun in North Carolina. However, it does not prepare you for the use of deadly force incident. The one thing that will keep you safe is EDUCATION and TRAINING.
Tim believes that fairness and transparency are critical. He wants his students to have options in developing the appropriate course structure for the best outcomes. Apache Solutions provides several different training packages, but he believes that students should be able to commit to only 1 class. This provides the student with the ability to determine areas for improvement and what their true training needs are. The end state of all courses with Apache Solutions is for students to know that they have the knowledge and training to carry a handgun with confidence. Apache Solutions is dedicated to the satisfaction of its' students. If a student feels as if their experience was not to the level outlined in a course description a full refund will be issued.
At Apache Solutions, we strive to deliver superior training for everyone from beginner to advanced shooters. Tim Kelly, Owner, and Chief Instructor served for nearly eight years in the United States Marine Corps Infantry and has over 12 years of firearms training experience. His certifications consist of numerous Marine Corps firearms qualifications and Black belt in Marine Corps Mixed Martial Arts. Tim is a Certified Handgun Combatives Instructor (One of 20 in the world). Certified NRA Training Counselor for pistol, rifle, personal protection in the home and Certified NRA Chief Range Safety Officer. He is also certified by the North Carolina Department of Justice to instruct North Carolina Concealed Carry Handgun courses and is a Certified Glock Armorer.
- Opening -
Hours
Monday- Saturday
BY APPOINTMENT ONLY
- Company -
Address
Apache Solutions LLC
5239 US 601 HWY
Yadkinville, NC 27055
info@apachenc.com
Tel: 336-422-6859